Heads up! I'm unavailable for projects until Mar 2021.
If you're not set yet, consider these coaches, speakers, designers, and developers. I know each person personally, so let me know if you want me to point you in the right direction.
I work with teams looking for clarity, momentum, and innovation; for new tools and ways of problem-solving, exploring space, or understanding customers.
These teams range 2-20 people, and might be in a start-up, SME, or corporation. Desire for energy and insight is what they share!
I've worked with & About me
certified by ICA, for Positive Psychology Coaching, and Associate Certified Coach (ACC) under International Coach Academy. I've enjoyed teaching yoga (YTT200 Ashtanga, YTT200 Hatha Vinyasa), and apply Embodied Counseling skills in my work -- I follow research around meditation, mindfulness, and the ability for the body to calm and build the mind.
I'm passionate about Tshaped people:
those who connect across discipline and dig deep in one area. I'm a co-founder of Cut The Small Talk conversations and conference on crucial but taboo topics, F*ck Up Nights Singapore (candid sharing of failure experiences in entrepreneurship), Orange Hive (friendly, pragmatic design),and HTML Crash Course. I am the original Chief Happiness Officer of Strikingly (sleek mobile-friendly sites in minutes, YCombinator W13). 
Inspired by Zappos, I choose the Chief Happiness Officer title because I believe in building human companies. In Singapore, I've found home teams co-organising to make anything friendly and pragmatic (UX; design; code), and want to inspire more interdisciplinarians. I'm moving to bring these broad experiences to reworking how we work!
I'm interested in everything with moving parts, 
so I studied psychology, and explored motivation and behavioural econ at UChicago. I learned more outside of the classroom, organising to spark conversation (Sex Week founder; sexuality magazine editor-in-chief, designer) and focusing on different kinds of teamwork (government; tango; circus).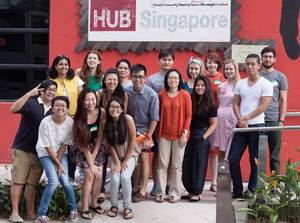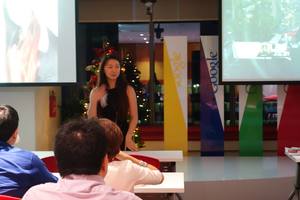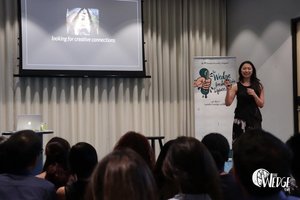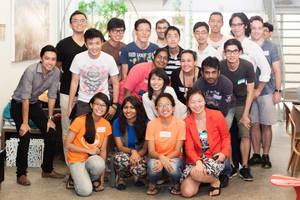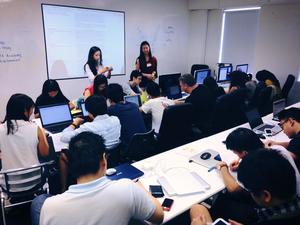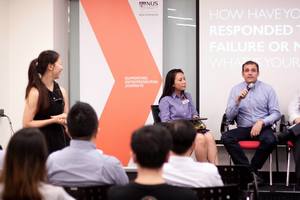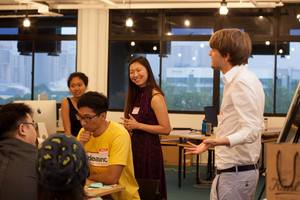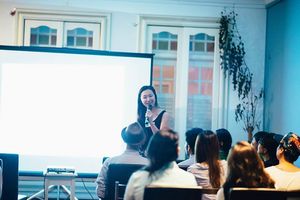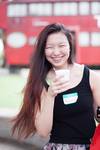 A partial list of PUBLIC events where I've designed curriculums, facilitated, and presented.
"Getting Creative with Uncomfortable Conversations" July 2017,TEDxPickeringStreet Singapore
"Authenticity" Making sense imposter syndrome and self-doubt, navigating social media, April 2016
"On being mid-f*ck up, making the most of failure, and being suicidal." F*Up Nights, April 2016
Design Trails, Human Library - Singapore Design Week, Mar 2016
"Date > Marry > Kids!?" Relationship norms and cultural expectations, Mar 2016
"On friends vs co-founders, the imposter syndome, and serial failures." F*Up Nights, Feb 2016
TEDxScottBase Conference, Antarctica, Jan 2017
"On emergencies, negative press, & marketing mistakes" F*Up Nights (Candid Business Failures), Dec 2016
"Human-Centered Design" IDEO +Acumen, Oct 2016
"New Leaders Bootcamp" SMU Eagles Group, Oct 2016
"Entrepreneurship Course" NTU, Sept 2016
"Candid Business Failures: Social Impact Edition" UNESCO-Supported World Congress, June 2016
"Design Thinking with Your Clients" Creatives at Work, Mar 2016
"Ego, energy, and self-neglect" F*Up Nights (Candid Business Failures ), Dec 2015
"Redesigning Education for 2020" Curiosity Night, Dec 2015
"Elevate the Leader in You! Nurturing Self-leadership" Corporate EA/PA Summit Asia, Dec 2015
"Coaching for Entre: Unstructured problems & Building self-led teams" Muru-D, Nov 2015
SICC-SMU Eureka! Prize Competition Judge -  Nov 2015
"Making the Leap from Corporate to Start-up," Startup Career Day, Oct 2015
"How to land, how to recover" On what's not working, Open Coffee Club, Oct 2015
"Creating a Culture of Creativity and Experimentation" OH Mentors, Oct 2015
NUS Overseas Schools Alumni, Oct 2015
"Learning from Failure" F*Up Nights (Candid Business Failures), Oct 2015
"Applying Sociology to Community Building in the New Age" - Viki Rakuten, Sept 2015
On Empathy, not Excuses - JFDI Mentoring, Sept 2015
"Practical Mindfulness" Cut The Small Talk, Sept 2015
"Value Proposition & User Experience Design" SMU Inst of Innovation & Entrepreneurship, Aug 2015
"Your Life as a Start-up" F*Up Nights (Candid Business Failures), Aug 2015
Clean & Green Hackathon, UP Singapore @ JTC Launch Pad, June 2015
"Problem, Pain, & Customer" Mentoring and Judging at YES 2015, June 2015
"Habits of Success: Productivity, Creativity, & Happiness" Youth Entrepreneur Symposium, June 2015
"Cut The Small Talk: Money, Identity, Value, & Worth" June 2015
"Life Design: Hacking Habits for Learning & Wellness" Orange Hive, June 2015
"Understanding Competition & Customers" The Startup Lab by J.P. Morgan, June 2015
"Customer Conversations: Uncovering Critical Insights" Key Person of Influence, June 2015
"UX Masterclass: Creating Products People Use, Value, & Share" Digital Marketing Summit, June 2015
"Creating a Desirable, Viable, & Feasible Solution" The Startup Lab by J.P. Morgan, May 2015
"Creating Culture in a New Company" at Startup Grind, May 2015
"How to land a plane" On Business Failure at F*Up Nights, May 2015
International Coaching Week at Hub Singapore and ERC, May 2015
"Design Thinking for Technopreneurs" TAG PASS Program at BASH, May 2015
"Defining and Refining the Problem" The Startup Lab by J.P. Morgan at The Hub, May 2015
"Distilling Customer Needs and Values" at The Co-Foundry, Apr 2015
"Hacking UI/UX" e27 Founders Drinks at The Working Capitol, Apr 2015
"Validating User Experience, Hands-on & Customer Interviews" BASH, Apr 2015
"Customer Service for Understanding Users & Growth" JFDI.Asia, Apr 2015
"UX for Start-ups: How to Think Like a Designer" AlphaCamp At BASH, Apr 2015
Coaching for Career Transition for SPH Job Fair at Suntec Convention Center, Mar 2015
"The Principles of Game Design... Applied To Your Business" Orange Hive, Mar 2015
"Learning, Adapting, and Collaborating as You Start a Business" Yayasan Mendaki, Mar 2015
"On business failure & being human" F*Up Nights @ Hub, Mar 2015
"How to Interview Users & Design UX Across Devices" @ Zopim/Zendesk, Feb 2015
"The Who, What, How, and Why of Starting a Business" Yayasan Mendaki, Feb 2015
"Scratch: Programming and Problem-Solving for Kids" @ IDA Labs, Feb 2015
"Website Basics, and How To Talk To Devs" HTML Crashcourse @ Tien Academy, Jan 2015
"Life-hack: Personal Branding and Self-discovery" Orange Hive @ Reading Room, Jan 2015
"One Day Sabbatical: How do feelings feel?" Jan 2015
"Soulful and Pragmatic: Goal-Setting and Firestarting" Jan 2015
"Redefine Success & Celebrate Failure" Panel - Start-up Grind & Plug-In, Dec 2014
"Optimise Your Website: Adwords, Conversion, Experience" - Google Business Groups, Dec 2014
"UX through Acquisition, Activation, Retention, Referral, and Revenue" - JFDI, Nov 2014
"Learning From Failure" - Open Coffee @ The Co, Nov 2014
"The Internet, HTML, and How It All Works Together" - HTML Bootcamp @ NUS Plug-In, Nov 2014
Pitching Bootcamp - Storytelling, Credibility, and Attention @ JFDI, Nov 2014
"Branding: Persona, Promise, Touch(Point)" - Orange Hive @ The Co-Foundry, Nov 2014
"What is Your Market Size & Competitive Landscape?" - PACT Accelerator, Nov 2014
"Who is Your Customer? Tools & Action Plan" - PACT Accelerator, Nov 2014
"Optimise Your AARRR Conversion Metrics through UX" - JFDI Accelerator, Oct 2014
"Level Up Your Decision Making: Tools from Psychology, UX, DT" - Level Up Your Career, Oct 2014
"Redesign the News Consumption Experience" - iAB, Innovators Network @ Google, Oct 2014
"UX: Advanced - From Qualitative to Quantitative" - Orange Hive, UXArmy @ NUS Plug-In, Oct 2014
"User Experience and Design Thinking" - iSTARTUP Accelerator, iAxil, Sept 2014
Marketing Clinic - HUB Singapore, Aug 2014
"UX & Prototyping for Wearables" - The Co-Foundry, Sept 2014
"Storytelling, Photography, Adobe Lightroom Crashcourse" Orange Hive/ HUB, Aug 2014
"Starting and Staying Lean" Lean Startup, July 2014
"Stanford Wallet Project: Remix" - A Build, Craft, and Design Experience @ SUNTEC, June 2014
"In the Hot Seat: Happiness and Productivity" - HUB Singapore, June 2014
"Customer Development: Social Enterprise Edition" - Envisage, June 2014
"UX, Conversion, and Monitization" - Renegade, June 2014
"Rethink 'marketing'" + Judging and Mentoring - Youth Entrepreneurs Symposium, June 2014
"How to Think Like a New Developer" - HTML Crash Course, EventNook, June 2014
"15 Minute Protoypes" - Orange Hive and SG Makers at Design Center, May 2014
"8 HTML & CSS Exercises for Adventurous Novices" - HTML Bootcamp, EventNook, May 2014
"On Branding and UX: How to Compete in the Mobile Age" - Mobile Asia Conference, Apr 2014
UX and Experiencing your Users: mentoring- iAxil, April 2014
"Expectation and Customer Experience" - *SCAPE, Orange Hive, Apr 2014
Presenting the Why, How, and What - Start-up Competition NUS, Apr 2014
Designing Experiences for Humans: mentoring - JFDI, April 2014
"Right-Brain Presentation Design" - Silicon Straits/SG Design Week/Orange Hive, Mar 2014
"Design Thinking: Mindset and Process" @ PrimeTime Professional Women's Network, Mar 2014
"Design for Conversion" - LinkedIn/SG Design Week/Orange Hive, Mar 2014
Branding and Presentation - Start-up Dynamo @ NUS, Mar 2014
Design Thinking on the MRT Experience - Mindfulness Professionals LinkedIn, Feb 2014
Value Proposition and Experience - MICE Hackathon, Newton Circus, Feb 2014
"Hands-on UX, A/B, and CSS" workshop - HTML for non-programmers, EventNook, Feb 2014
"Who's the 'user' in UX?" web crit, ideation, & A/B site building - NOC Program @ NUS, Feb 2014
Ideation for Adobe Bootcamp/NGO Design Hackathon - The Orange Hive @ M.A.D, Jan 2014
The Stanford Wallet Project Workshop - The Orange Hive @ NUS Plug-In, Dec 2013
"Simplicity as a weapon" - SMU Entrepreneur's Corner, Oct 2013
"Design is why we make the choices we make" - The Orange Hive @ NUS Plug-In, Oct 2013
"Making a splash" publicity roundtable - JFDI.asia, Nov 2013